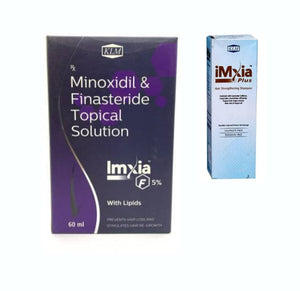 The derma cosmetics
kit
Regular price
Rs. 1,600.00
Sale price
Rs. 1,672.00
Unit price
per
Tax included.
Shipping
calculated at checkout.
the anti hairfall kit from the derma cosmetics is specially design to fight against hairfall condition of men and women
it contain 3 main product
1. imxia f 5 lotion (60ml lotion)
2. klm extend hair tablet (30 tablet)
3. imxia  hair strenghtening shampoo (125ml)
this kit is specially design under guidence of well known trichologist and dermatologist
this kit has benefits on below condition
reduce hairfall
regrowth of new hair
works best on telogen hair loss
also works in women hairloss problem
reduce breakage of hair
gives hair strength from root
FAQS
Who can use this kit?
        any adult man and women who has hairfall can use this kit

does it safe to use medicine?
       this kit contains one tablet ecxtend hair tablet which is multivitamin, biotin tablet that is nutrition supplement which is complete safe

can women use this kit ?
     in normal condition women can use this kit but pregnant women cant use this kit

how to use this kit ?
          1. Imxia f 5 solution comes in 2 different applicators first is a dropper and the second is spray.  First, let the scalp dry then apply the exact dose of the solution as advised by your doctor to directly the scalp It doesn't need to massage the solution in the scalp Use it twice a day.
         2. extend hair tablet use it once at night after dinner
         3. imxia plus shampoo use it weekly 2-3 times
---
Share this Product
---